Risotto has a bit of an upscale image, but it's actually very simple to make. This risotto incorporates the fresh and vibrant flavor of basil and chorizo with the wonderful texture of shitake mushrooms and flavor of parmagian-reggiano cheese. A simple yet elegant dish, this Red Risotto is perfect for a family meal, a couple's night at home, or a dinner party.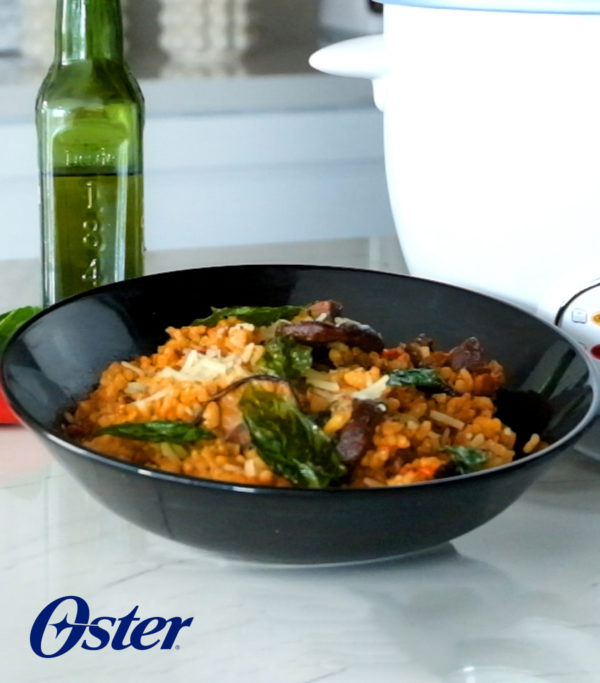 | | |
| --- | --- |
| | |
Make the mint leaves by setting the Oster rice cooker to Cook.

Heat the olive oil, add the mint leaves, and fry until they are crisp. Remove to paper towels to drain. Transfer the oil from the rice cooker to a measuring cup and set aside.

Saute the sausage in the rice cooker until it loses its pink color, breaking up any larger pieces. Add the onions and squash and cook for about 3 minutes or until onions begin to soften.

Add the wine and chicken broth and bring to a boil. Add the rice and stir to coat the grains.

Cover the rice cooker and press Cook again.

At the end of the cooking cycle, check the risotto; there should still be a bit of liquid in the pan, and the rice should be al dente (still firm to the bite). Stir in the butter and half of of the Parmigiano.

Serve the risotto in shallow bowls, garnished with a drizzle of the mint oil and a lead of mint and pass the remaining Parmigiano on the side.