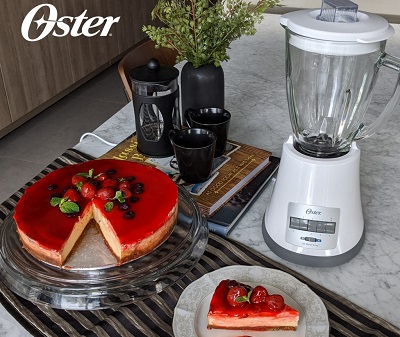 | | |
| --- | --- |
| | |
Make crust: Stir together crust ingredients and press onto bottom and 1 inch up side of a buttered 9-in springform pan. Chill up to 2 hours.

Make batter: Put the half of the softened cream cheese and half of the whole eggs in the Oster 8-Speed Blender. Blend on speed level 7 until eggs are incorporated.Next, add the remaining half and

Bake: Preheat oven to 350°F. Put springform pan with crust in a shallow baking pan. Pour filling into crust and bake in baking pan (to catch drips) in middle of oven 45 minutes, or until cake is set 3 inches from edge but center is still slightly wobbly when pan is gently shaken. Let stand in baking pan on a rack 5 minutes. Leave oven on.

Make the topping: Stir together sour cream, sugar, and vanilla. Drop spoonfuls of topping around edge of cake and spread gently over center, smoothing evenly. Bake cake with topping 10 minutes.

Run a knife around the top edge of cake to loosen and cool completely in springform pan on rack. (Cake will continue to set as it cools.)

Chill cake, loosely covered, at least 6 hours. Spread the berry compote on top of the cheesecake. Remove side from pan and transfer cake to a plate. Bring to room temperature before serving.